By Sarah Hicks
Gov. Ron DeSantis wants to remove any obstacles standing between Floridians and a good-paying job. 
The governor is proposing the use of $75 million in federal money to fund two workforce training initiatives. One would make it easier for high school students to learn skills for in-demand jobs while the other would help adults with retraining costs. Together, they're called Get There Faster.
The initiative is heavily focused on career and technical education or CTE pathways, which focus on learning specific skills for a specific job and don't require a four-year degree. As the state emerges from COVID-19, that faster turnaround time has become even more critical.
It will focus on earn-while-you-learn programs that make students immediately marketable. It will cover aspects of vocational education that aren't covered by traditional financial aid: think books, transportation or unexpected program fees. 
"Whatever it is that's keeping you from getting that credential — that's what we want this money to cover," Florida Commissioner of Education Richard Corcoran said at a news conference to announce the plan.
Creating More Viable Pathways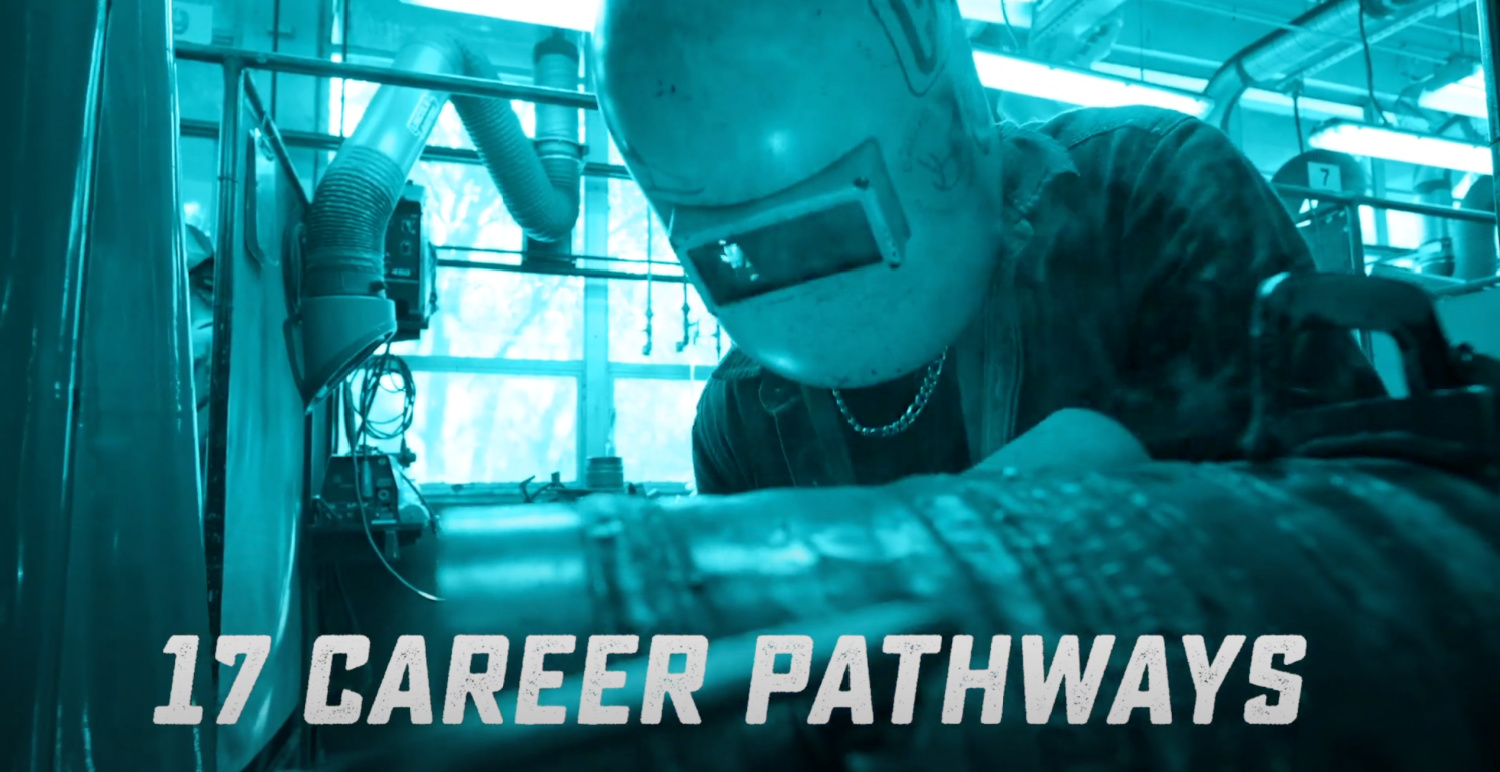 The plan is part of Get There, Florida's Workforce Education Initiative, which underscores the state's many educational pathways, including 48 technical colleges and 28 colleges.
The governor's proposal is focused on helping residents find the shortest route to an in-demand job, as this video explains.
"We're creating more and more viable pathways that provide students with the skills that they can then turn into strong livings and high wages," DeSantis said. 
The governor is seeking approval from the Florida Legislature to utilize federal stimulus money for this purpose. About $50 million would come from CARES Act funding marked for the state's Elementary and Secondary School Emergency Relief Fund. The other $25 million would come from the governor's Emergency Education Response Fund.
The bigger pot of money would be used for high school students who must be dual-enrolled in a workforce learning program. The remaining $25 million will focus on adult learners. All of the money would be used to provide work-based learning opportunities at a Florida educational institution or business.
States Focus On Workforce Development 
It's an exceptional push, especially in the COVID-19 era, which hasn't been easy on states' higher education budgets. However, several states saw the crisis as a reason to invest more money in training, not less. 
Alabama, Arizona, Arkansas, Colorado, Louisiana, Kentucky, Maine, Michigan, Minnesota, Missouri, New Mexico, Ohio, Utah, Vermont, Washington and West Virginia all increased funding for CTE in 2020. 
Of special note: Kentucky added $17 million for postsecondary institutions for workforce investments, according to a report by ACTE and Advance CTE examining state CTE policies. 
Kentucky also expanded its Work Ready Scholarship Program, which helps residents who have earned less than an associate degree get specific training. Like Florida's proposal, this program aims to provide "the last dollar necessary" for residents to finish the training they started.
"The Work Ready Kentucky Scholarship offers Kentuckians an opportunity to prepare for careers in a wide variety of fields that are in demand in the Commonwealth," Kentucky Community and Technical College System Chancellor Kris Williams said. "Students can earn industry-specific certificates and go straight to work or earn an associate of applied science degree and transfer to a university. The scholarship allows students to attain vital skills and education, and at the same time, strengthens our workforce."
Michigan has long been a leader in the movement, with a series of programs like Going PRO in Michigan, which is aimed at changing attitudes about the skilled trades and helping residents train for in-demand jobs. Michigan is also ahead of the curve on apprenticeships, with 1,096 active apprenticeship programs for the 2019 fiscal year, second only to California. 
Ohio — on top of increasing funding and boosting industry partnerships — also created an Individual Microcredential Assistance Program, which reimburses employers for training programs lasting one year or less aimed at in-demand jobs.  
And newcomer Mississippi launched ReSkillMS to provide skills training to those most hurt by the pandemic to fill high-paying jobs across the state.
It's all part of a nationwide push to close the ever-widening skills gap.
In his announcement, DeSantis reiterated Florida's goal is to be the best state in the nation for workforce development by 2030. Looks like there will be increasing competition for that title.