By Michael d'Estries
Skills are the new currency. To stay competitive in manufacturing, healthcare and other changing industries, workers have to keep up and keep learning. Fortunately, a form of training that hasn't always been associated with skills-based jobs is catching on. Micro credentials empower workers to learn the skills employers want without sacrificing a lot of time or money.
In a recent survey by Coursera of 1,200 employers and 2,400 recent graduates and students, 86% of U.S. employers agreed that earning a micro credential or entry-level certificate strengthens a candidate's job application. And 74% say such credentials improve a candidate's ability to perform in an entry-level position. 
Higher education and industry have taken note, with community colleges and businesses now offering micro credentials or micro pathways that focus on teaching a specific skill set that employers need.
"Employers' expectations have definitely shifted," Scott Shireman, Coursera's global head of campus, tells InsideHigherEd. Credentials, he says, help signal that prospective employees have the practical skills to succeed in specific areas important to the company. "Industry micro credentials are helping hiring decision-makers solve two of their biggest challenges right now: identifying and validating applicants' skills."
All of this adds up to a new age of continuous learning. Unlike traditional pathways, micro credentials give students of all backgrounds flexible, cost-effective ways to pick up new skills. 
So how can job candidates and employers take advantage of this rapidly growing trend? 
Here's everything you need to know about micro credentials and their impact on the future of education and training in a skills-based world. 
What Is a Micro Credential?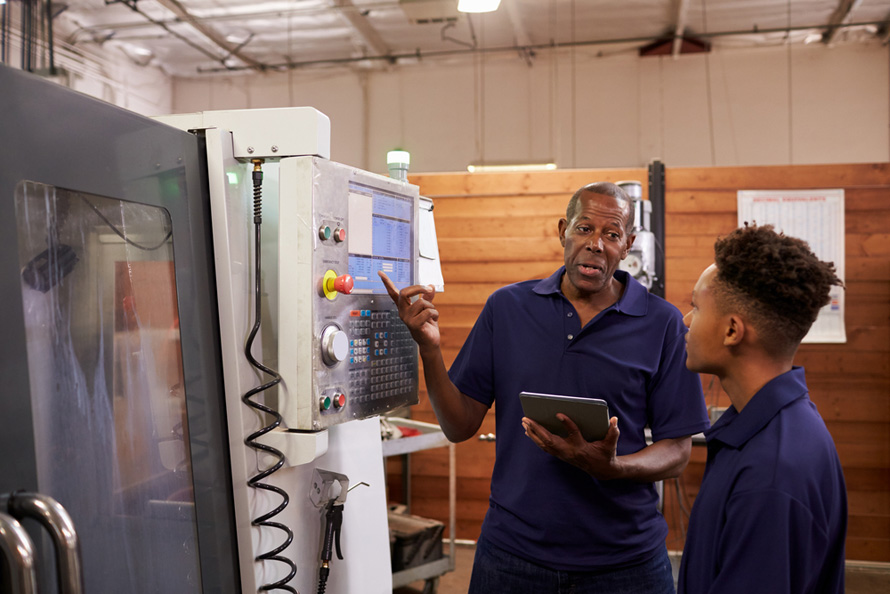 A micro credential is a competency-based qualification. It provides certification, or proof, that someone has mastered a specific skill or subject. 
A micro credential is designed to be earned in a short amount of time, from weeks to months. Some are "stackable" and count as credit toward a certificate or degree. 
The micro credential trend started in information technology, but now it's everywhere. What's changed is employer acceptance of micro credentials. This shift has been driven by technological advancements across all industries and the growing need to hire and upskill employees to address skills gaps and knowledge deficits. 
Interested in learning more about Computer Aided Drafting (CAD) in manufacturing? There's a micro credential for that. What about someone who wants to earn their Class-A Tractor-Trailer Certification and learn the ins and outs of owning their own trucking business? Rockland Community College offers a Class-A Truck Driver Training program with an associated entrepreneurship micro credential.
"Micro credentials give students a leg up," Lori Crosson, director of continuing education and e-learning at Sault College of Applied Arts and Technology, tells The EvoLLLution. "They put extra skills in their toolbox, so that when they're embarking on these career paths, they have something more to bring to the table."
Why Micro Credentials Work for Both Employees and Employers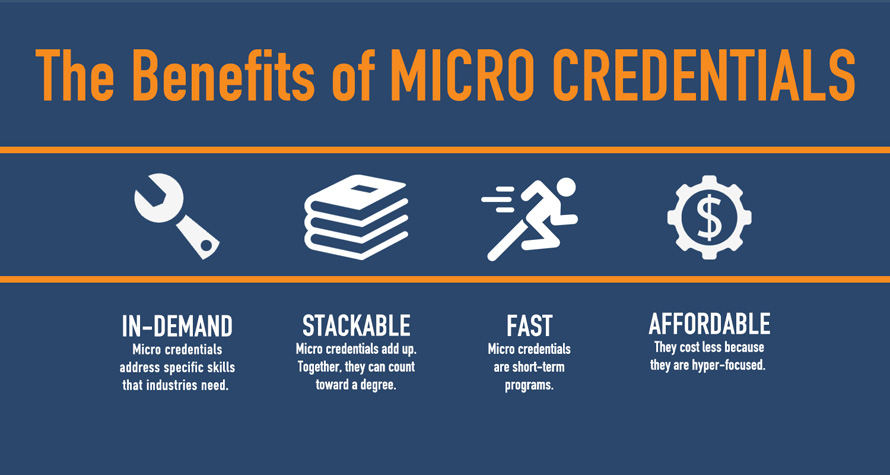 Micro credentials benefit both sides of the work equation. Here are some of the reasons this form of accelerated learning is a win/win for workers and employers. 
1. Micro credentials offer flexible and cost-effective skills training.
Unlike traditional degree programs, micro credentials can be completed quickly and affordably. They are narrow in scope, taking weeks or a few months, so learning is more efficient than longer programs. They are also more responsive. As technology changes, students can build relevant skills to advance in industries such as manufacturing, healthcare or transportation.
Many programs are also offered online, which gives learners flexibility to learn during the workday, if the class is employer-sponsored, or on their own time.
For example, Unmudl and Amazon offer a 10-week Equipment Maintenance Tech II program. The program is online and on-demand, meaning someone who meets the prerequisites for mechanical and electrical experience can complete the program on their own timetable and apply for this high-tech manufacturing role. 
2. Micro credentials are industry-approved and up-to-date.
When employers identify specific skill gaps in their workforce or industry, they can partner with educational institutions to address them. This allows employees to gain the necessary skills while employers benefit from a more knowledgeable, up-to-date workforce.
For instance, when American Diesel Training Centers (ADTC) set out to create a new fast-track program for diesel techs, they partnered with prospective employers to focus on the skills employers needed most. The result was a program that could be completed in less than three months and result in a full-time job. 
"We built the program starting from what the market wanted," CEO Tim Spurlock told SkillPointe. Companies don't expect entry-level diesel techs to know how to rebuild an engine. They want someone who can do basic diagnostics and work on electrical circuits, brakes, wheels, steering, suspension and alignment. So that's what the program delivers.
3. Micro pathways address soft and hard skills.
Micro credentials allow students to focus on one specific area, personalizing the training to reflect the knowledge needed in a current role or needed to pivot to a new one. This leaves room to learn hard and soft skills. Micro credentials can cover universal skills, such as team building and customer service, at the same time they address industry-specific skills like skid steer maintenance, plumbing basics or pulmonary care. 
Pathways to Work: Community Colleges, Employers Join Forces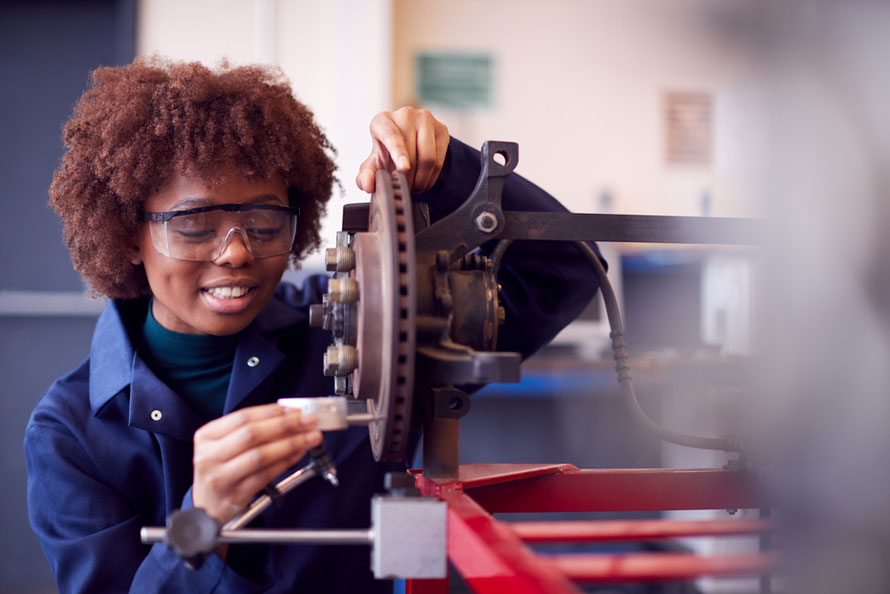 The skills shortage has spawned innovation, including more intentional partnerships between employers and community colleges. Together, they have created programs that include stackable micro credentials that not only create valuable skills but also provide a pathway to a better education and salary.
The Community College Growth Engine Fund (CCGEF) has worked with colleges and employers to transform workforce training. Here are a few examples of micro pathways they've helped create. 
1. Smart Manufacturing and Digital Integration at Ivy Tech Community College
Ivy Tech Community College's Smart Manufacturing and Digital Integration micro pathway can quickly lead to a career as an electro-mechanical manufacturing technician. In the first four months, students at the Indianapolis school complete "three industry certifications, an internship for those new to advanced manufacturing, and six credits towards higher credentials," explains Education Design Lab, which worked with Ivy Tech and regional employers to design the program through the CCGEF.
Students who continue with related coursework can earn a technical certificate in Smart Manufacturing and Digital Integration. They can go on to earn an associate degree. Each step of the learning process matches the requirements for a higher-earning position, so employees earn a bigger paycheck and employers gain a more valuable, satisfied workforce.  
2. Plumbing Fast Track at Pima Community College
Pima Community College in Tucson, Arizona, focuses on adult learners who need to update their skills quickly. Plumbing is part of the FastTrackPima program, where students can learn the skills necessary for an entry-level position in about four months. In addition to courses in critical thinking, construction math, basic rigging and blueprint reading, students receive hands-on skills training in plumbing basics, safety protocols, tool use and professionalism in service. 
The credential earned can also be applied toward continuing studies for an associate degree in building and construction or can provide the first rung on a plumber's career journey. 
3. Residential Construction Certificate at Seattle Central College
Students who don't have experience but want to get started quickly can enroll in Seattle Central College's residential construction micro pathway. This hands-on certificate in "whole building" construction takes less than a year. Like most micro pathways, the program is designed to be flexible, with online coursework supplemented by one evening per week of hands-on training and a few weekends each quarter. 
Upon completion, students can seek entry-level positions in construction, earn a promotion or apply the credits towards an associate degree in multi-occupational trades or a bachelor of applied science degree in sustainable building science technology. 
Will One Micro Credential Experience Lead to Many?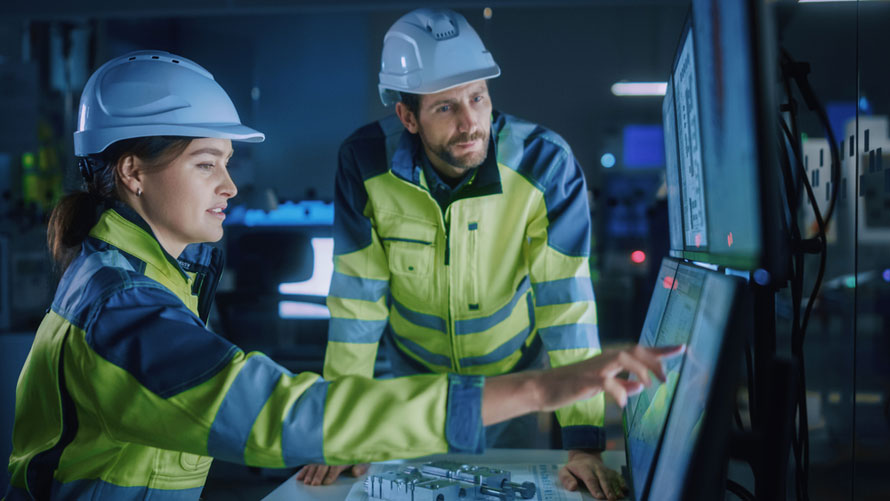 Micro credentials are the solution that meets industry workforce needs and creates economic mobility for workers. And they go hand-in-hand with lifelong learning. Chances are good that one micro credential experience will eventually lead to many over the course of a career.
Learners can apply them to a current role, leverage them to earn a promotion or break into a new industry, or they can stack them towards earning a degree. Regardless, a small investment of time and money is likely to pay off quickly. 
Michael d'Estries writes about innovation and culture for a variety of outlets. When he's not online, Michael runs his large apple farm and honey business in the Finger Lakes region of New York.