By Sarah Hicks
Semiconductor manufacturing in the United States is booming. Since May 2020, investments in semiconductor and directly related projects have surpassed $200 billion, with new announcements rolling out every month.  
Fueled by federal policy, the microchip-making boom is creating jobs, with plans for semiconductor plants to be built or expanded in Arizona, Texas, New York and several other states. 
Many of the jobs created will be for semiconductor technicians, a little-known career that requires training ranging from a short-term "quick-start" certificate to a two-year associate degree. 
It's an opportunity to join an industry that shows no signs of slowing down. 
What's Driving the Semiconductor Jobs Boom?
Semiconductors, also known as chips, are everywhere. 
They've been described as the foundation of modern life. That may sound like hyperbole, but consider that semiconductors are essential for automotive electronics, computing and data storage solutions, and wireless communication. These three industries alone are expected to drive about 70% of industry growth, according to a McKinsey report, and yet they are just the biggest drivers. Semiconductors are the brains of almost all the digital applications that are part of modern life.
The point is, we need more chips to keep all our cars and phones and military machines running efficiently. Yet most of the chips we use today were manufactured overseas in Japan, South Korea, Taiwan and China. The U.S. used to be a leader in chip manufacturing, but currently produces less than 12% of the global supply.
COVID-19 amplified why the U.S. needs to make more chips at home. The coronavirus outbreak led to a spike in semiconductor sales, which led to delays in the delivery of many consumer goods. That succeeded in getting everyone's attention.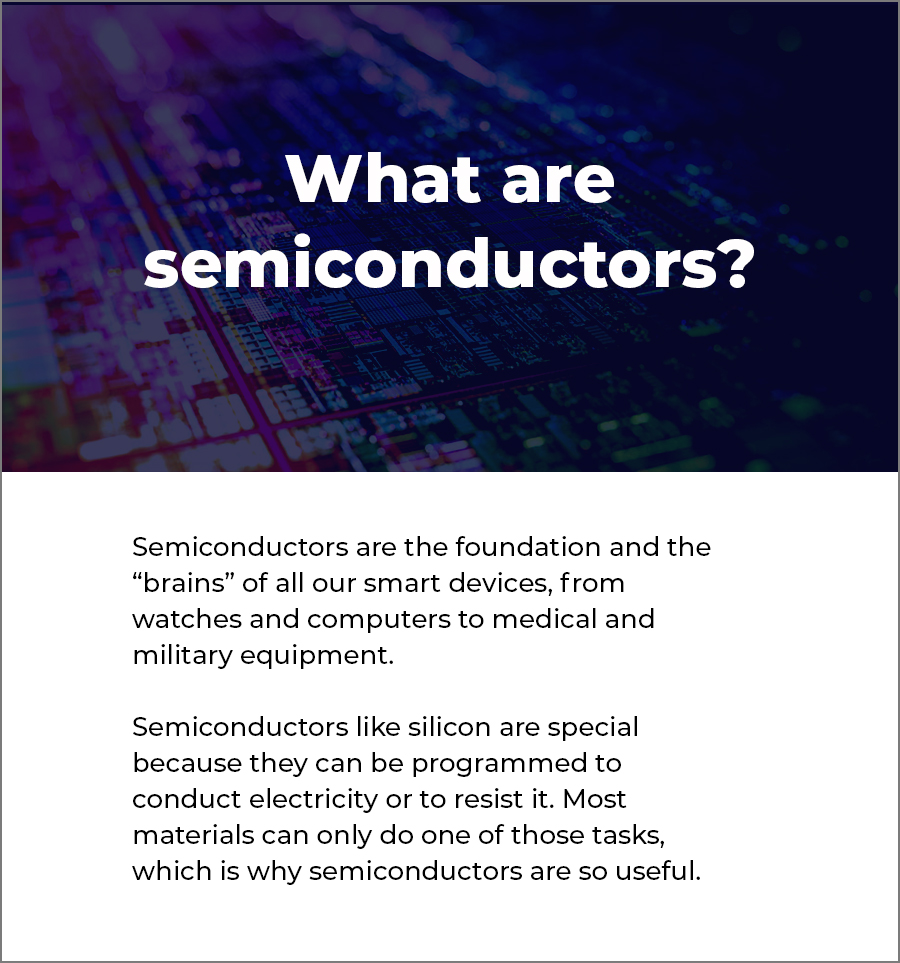 The shortages, along with international tensions and concerns about national security, prompted the passage of the CHIPS and Science Act, which provided $280 billion overall for the semiconductor industry and about $52.7 billion specifically for research and manufacture of semiconductors and the workforce development needed to support them. 
The federal investment opened the door for a semiconductor manufacturing boom. Even before the CHIPs Act was signed in August 2022, companies began making plans to build more fabrication plants or fabs here in the U.S.
Boom Creates Semiconductor Job Opportunities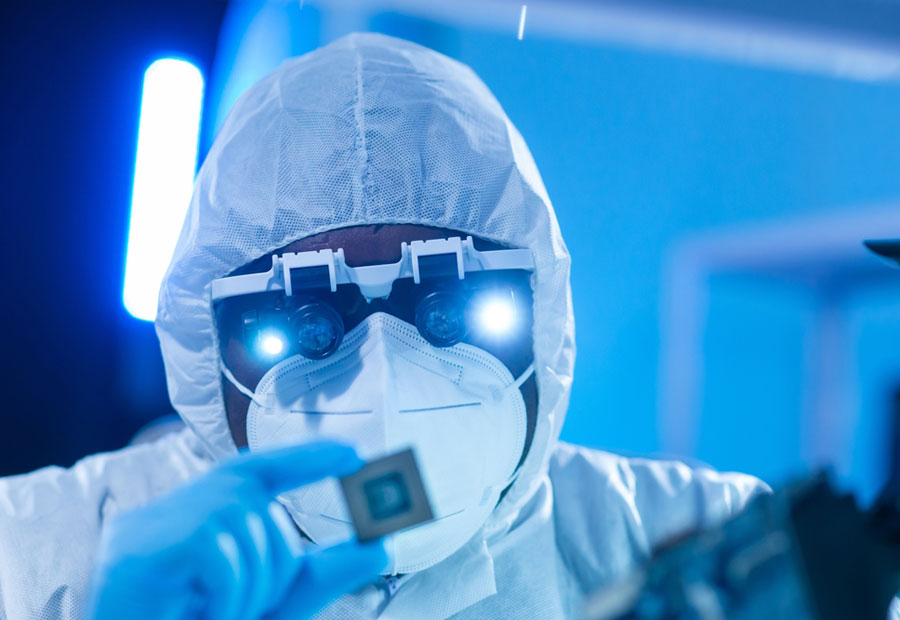 Job estimates vary, but the Semiconductor Industry Association (SIA) says the investments made so far will create at least 40,000 jobs, which has a multiplying effect. An SIA-Oxford study found that for each U.S. worker directly employed by the semiconductor industry, an additional 5.7 jobs are supported in the wider economy. 
 
On top of that, one in five semiconductor workers do not have or need a bachelor's degree, meaning these jobs are available to an underutilized segment of the population. 
Where Will the Semiconductor Jobs Be? 
So far, the biggest winners of semiconductor-related jobs are Texas (about 8,300 jobs), Arizona (more than 8,000 jobs), and New York (about 5,000 jobs.) But as you can see from the SIA semiconductor investment map below, many other states will benefit as well.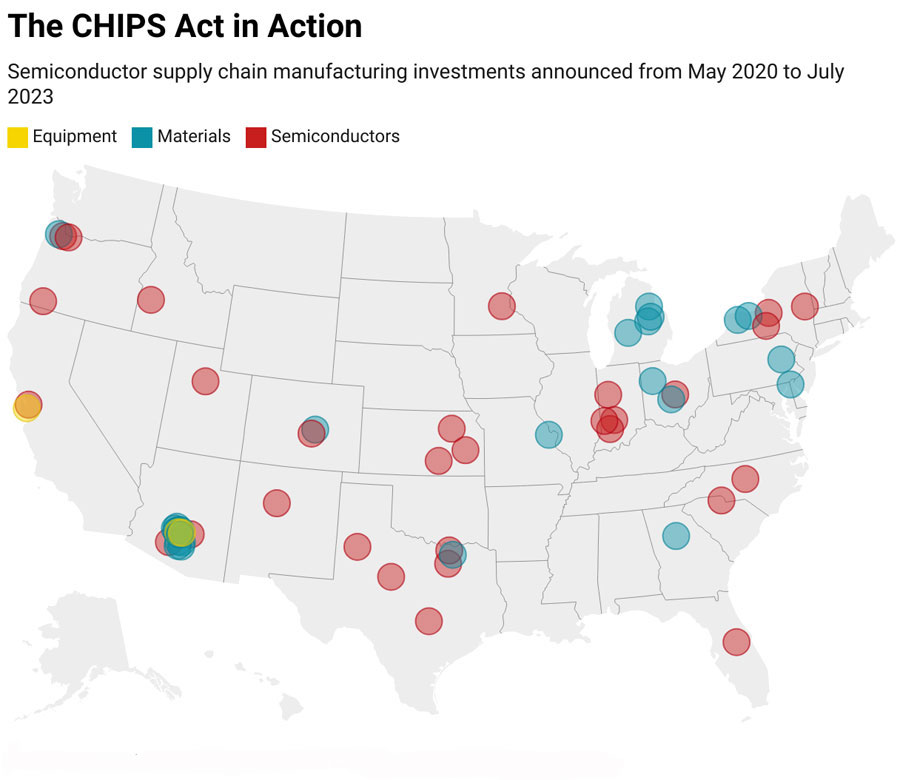 Each new announcement about a new or expanded U.S. chip-fabrication plant has big implications for local and regional development.
After the work of landing the deal is done, the next phase of training the workforce begins. 
Skilled Semiconductor Technicians Needed — and Fast
 
With shovels already in the ground to build some plants, semiconductor manufacturers are rushing to answer the next question: How do we create a steady supply of skilled technicians?
Chip manufacturers are getting creative, partnering with community colleges and other training providers to create new pathways. 
Arizona — where Intel and Taiwan Semiconductor Manufacturing Company or TSMC are setting up shop — is the site of the most eye-opening talent solution. Three Maricopa Community Colleges have created "quick-start" programs to train entry-level semiconductor technicians in just 10 days. 
For in-state students who successfully complete the training and certification, the cost of the program could be as low as a $15 registration fee. Not surprisingly, students have been receptive, and all programs are currently booked. 
Certificate and associate-degree programs in semiconductor technology are also gaining traction as educators and employers work together to fill the jobs pipeline.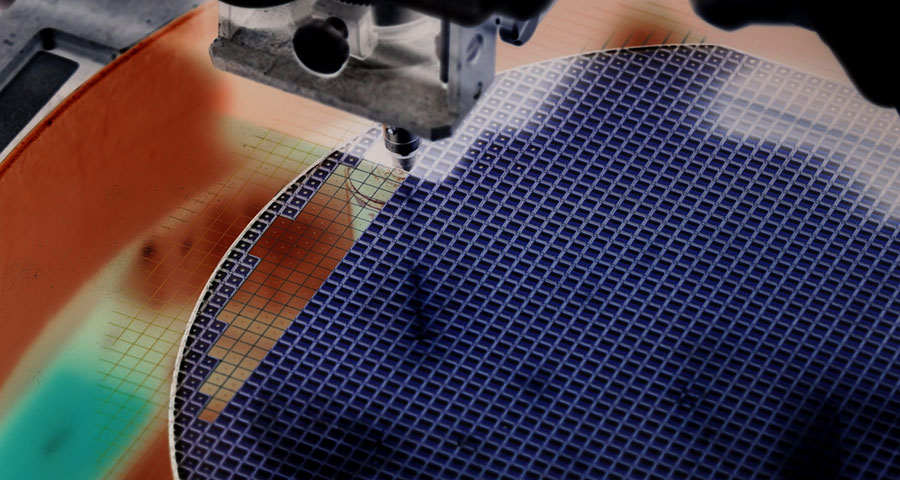 One Oregon school district created an advanced manufacturing apprenticeship program for 16- to 18-year-olds. The paid, two-year program will train and certify students for a number of in-demand technical manufacturing roles, including semiconductor technicians. 
"Our hope is that students would have a job offer with the companies if they decide to stay full time, but also be open to the possibility of pursuing postsecondary education through college or university," Youth Apprenticeship Project Manager for the Hillsboro School District, Claudia Rizo, told The New York Times.
Reskilling is another tactic workforce development groups could take. An in-depth report from Lightcast called Rebuilding Our Semiconductor Workforce, suggests many of these jobs can be filled by workers in jobs with similar skill profiles. The Lightcast authors point to calibration technologists or technicians as an example, who meet many of the technical requirements and would only require training for soldering and operating programmable logic controllers to become electrical and electronics engineering technicians, one of the most undersupplied jobs in the semiconductor industry.
Semiconductor Jobs Poised To Make an Impact
The federal and private investments in semiconductor manufacturing in the U.S. will have a lasting impact. 
For educators, businesses and communities, it's an opportunity to create a skilled workforce and drive regional growth. For individuals, it's the possibility of a well-paying job and an entry point into an industry that shows no signs of slowing down. 
Sarah Hicks is an editor and writer with expertise in workforce training, sustainability and science.