By Mary Lou Jay 
Manufacturing jobs pay well. According to Georgetown University's Center on Education and the Workforce, manufacturing workers at every education level earn more, on average, than workers in other blue-collar and skilled-services industries. But the United States has hemorrhaged these jobs over the last two decades, losing them to China and to factory automation.
Does that mean manufacturing is a dead end as a career choice? The short answer is "no."
It's true that some of those jobs, especially ones that involve repetitive, monotonous tasks, simply aren't coming back. But U.S. manufacturers nevertheless need workers now — and they'll need them 10 years from now, too.
One simple reason: Baby boomers are retiring. Over the next 10 years, boomers and Gen Xers will leave more than 2 million manufacturing jobs open, according to research from consulting firm Deloitte and the Manufacturing Institute. 
"A large percentage of the millions of people that manufacturers are going to need to hire are replacement head count," says Mary Ann Pacelli, an executive with the Manufacturing Extension Partnership, a public-private partnership dedicated to serving small and medium-size manufacturers.
Another reason: The COVID-19 pandemic exposed a critical need for U.S.-made supplies, which may bring more manufacturing back to these shores.
During the pandemic, many U.S. companies had trouble getting necessary parts or products (including face masks and other medical supplies) because they were made exclusively overseas. Now many of these businesses — automotive, aerospace, pharmaceutical, consumer household goods and defense — are considering production options closer to home. 
"They are not discontinuing working in other countries, but they are looking to grow their supply chain locally, or at least in North America, to resolve issues of time, distance, disruptions and security," says Pacelli.
In addition, some existing factories are pivoting to produce essential goods. 
Wanted: Tech-savvy Workers Willing to Learn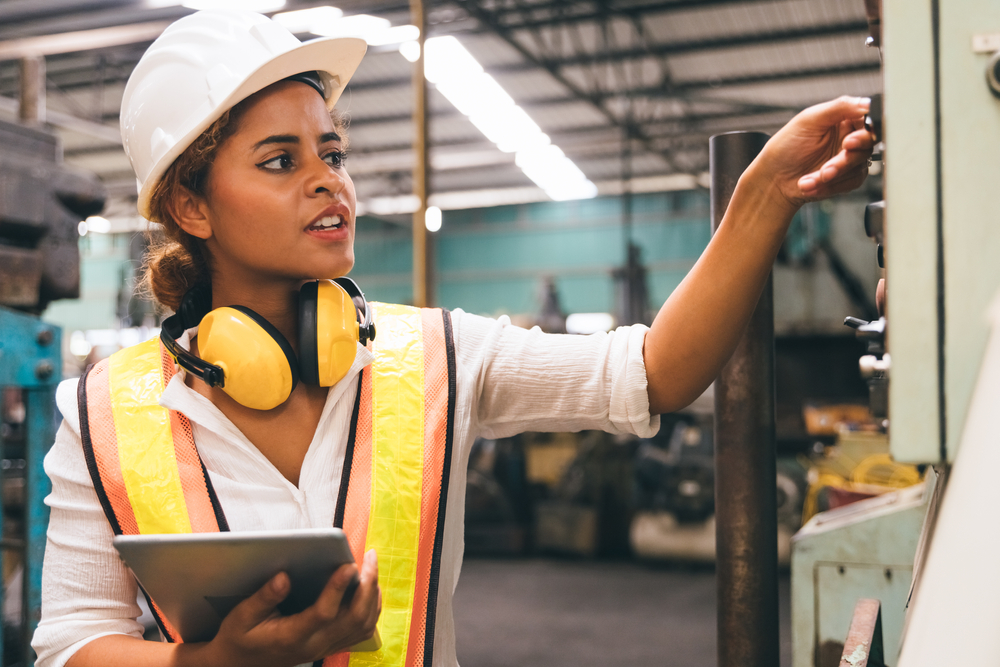 Technology means factories can function more efficiently, with fewer people on the floor. That's one reason the number of new manufacturing jobs (not existing jobs left open by retirees) is expected to decrease over the next decade. But it also means more opportunities will arise for tech-savvy workers willing to learn — including women and people with physical disabilities, who are currently underrepresented in the industry.
Brute strength is no longer the focus. "What is going to be needed as companies bring in more automation is employees who can program and manage the automation," says Pacelli. Manufacturers need trained electro-mechanical technicians or robotics technicians — workers training to set up equipment, program robots for basic tasks and inspect and approve the final part or product. 
The shift to automation also places more importance on roles such as industrial machinery mechanic. "Equipment maintenance in an industrial environment is still a very high need," said Pacelli. These roles typically require an apprenticeship. "It takes a long time for somebody to be good at that because some of it is just experience and learning." 
The Training Path 
Some community colleges and trade schools offer two-year technician degrees or one-year certification programs that provide part of the training manufacturing jobs require. 
"The new technologies — robotics, additive manufacturing, additive technology, using sensor equipment and digital programming of the new technologies — don't necessarily require a four-year degree," says Pacelli.
 
More manufacturers are developing partnerships with these schools and colleges. They're also developing their own training programs. "A lot of the internships and apprenticeships in manufacturing today are internal," says Pacelli. 
Workers don't need to know every skill to get hired. What companies need most, according to Pacelli, are middle-skill job candidates — those who have some mechanical skills and a basic understanding of factory operations. Manufacturers also look for people with good decision-making and problem-solving skills and an interest in working with technology and learning new skills as the technology evolves.
"An individual might start at the entry level, move into a middle-skilled position like a technician, and after a few years, [the company] might say, 'We have these two or three different types of apprenticeships to move you into.'" According to Pacelli, an apprentice might spend two to four years working alongside a skilled maintenance tech, take related training, learn the job and eventually be able to take on that position.
"Working with the new technology is where we are going to need young individuals take over," notes Pacelli. She says they'll not only program robots but also figure out ways to improve the manufacturing process. 
Creative thinkers are welcome, especially as companies switch from making millions of one single part to manufacturing a wider variety of products. 
"It's not routine anymore, and the industry wants and requires people who are able to think and participate and work with others."
Pacelli recommends that people interested in the manufacturing industry visit their local career center/employment office to learn which manufacturers in their area offer apprenticeships, internships or opportunities for job shadowing, and go from there.
Manufacturing may not be adding new jobs at the same rate as other industries, but for people looking to learn new skills and work with the technology of tomorrow, the factory might be the place to do it.
Mary Lou Jay has written about construction, trucking and other skilled trades for a variety of publications.
Full photo credit information for robots in auto factory: BMW Werk Leipzig (CC BY-SA 2.0 DE)/Wikimedia Commons