By Matt Hickman
A practicing structural engineer for over 20 years, Sean Ticknor knows his way around a job site. He also knows the value of an increasingly rare commodity that these job sites need to keep humming: skilled labor. 
"Across the whole construction industry, everyone would like to see more skilled labor," Ticknor told SkillPointe. "Everyone is having trouble finding and keeping good folks, top to bottom, foundation to roofing."
To help solve that problem and to encourage more students to consider the skilled trades, Ticknor established Big Skills Tiny Homes, a nonprofit organization dedicated to providing "self-discovery, mentoring and skill development to students interested in the trades." 
Ticknor, who is the parent of two teenage sons in Marin County, California, also recognizes that students — many of them just starting to put out feelers about what their futures might look like — are also pushed in a certain direction. And that direction is college. 
"There's amazing opportunities for people who are good at building and skilled labor, but there's also no pipeline for people to know if they're good at it," said Ticknor, bemoaning the lack of established venues for students to forge new paths and hone their skills in the construction trade. 
"Some people are just naturally gifted at building, but if they don't have shop class, they don't get the chance to find out what their gift is. The idea is that you should do what you're good at, and that's going to be the greatest benefit to both yourself and society as a whole." 
For students to unearth these gifts, Ticknor believes they should ask themselves: "What am I good at? What do I like?"
"To answer that question, you need to try a bunch of things," said Ticknor.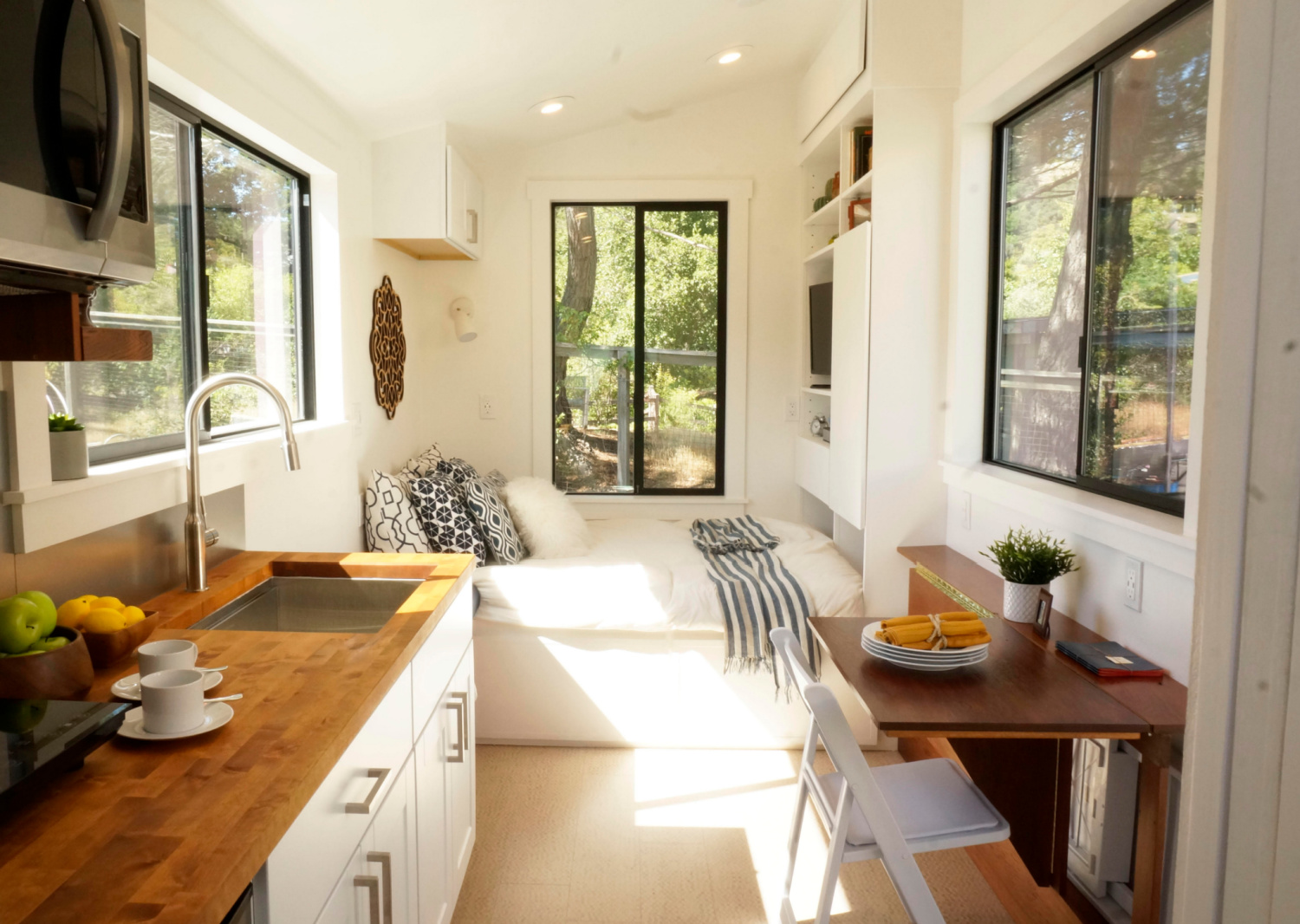 Acting as mentor/teacher/supervisor/cheerleader/executive director, Ticknor guides small groups of high school students through the construction of a towable tiny house, from start to completion. During this process, the three students get hands-on experience learning and executing just about every skill needed to complete a small-scale home building project. 
"Building a tiny house is wonderful because in a quick amount of time you get to try a whole bunch of trades," Ticknor explained. "You get to try the cabinetry, carpentry, the plumbing, the siding, the electrical, the roofing, and the tile. And you get to finish the entire project, not just a little piece, or part or half — and nothing's more important in construction than finishing."
This can be especially powerful for students who don't know what to do after high school. 
Tiny House Construction Provides a Unique Learning Opportunity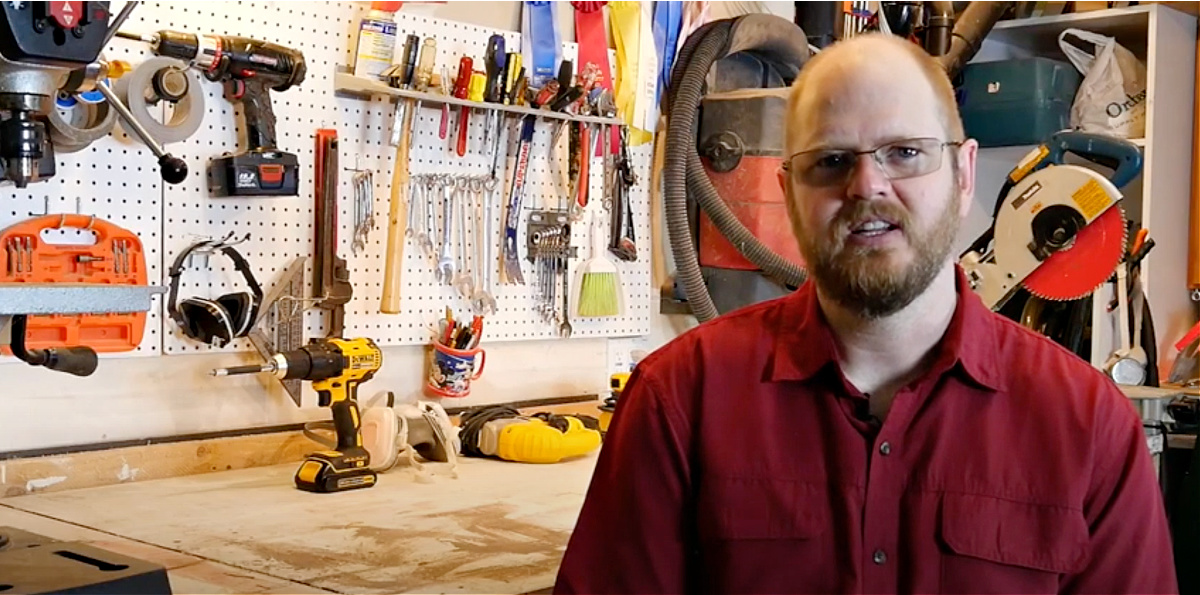 In this video, Sean Ticknor talks about what students can gain from participating in a Big Skills Tiny Home build.
Ticknor established the first cohort of young builders through recruitment efforts at local high school tech and career fairs in May 2019. Their work kicked off on the inaugural dwelling in September of that year.
Ticknor and the team worked on the house during the morning hours, five days a week from 8 a.m. to noon. The three student builders largely came in wide-eyed, eager, and ready to try everything. Some had light experience in household repair and building projects, but none came in with preconceived notions.
"Nobody came in saying: 'I want to be an X or a Y,'" Ticknor noted. "It was really a delight to work with them."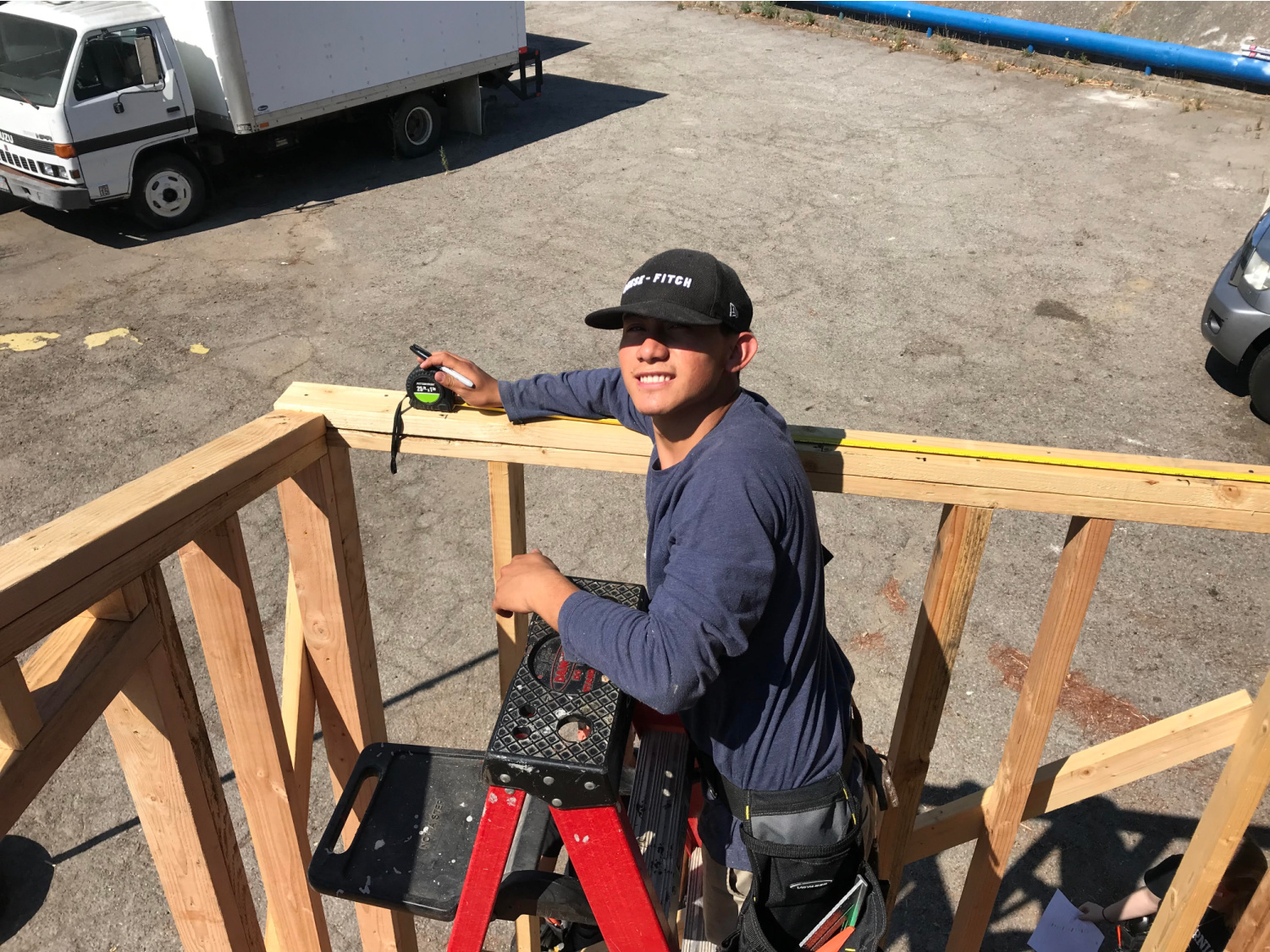 With progress well underway on the tiny house, Ticknor and his crew of burgeoning jacks-of-all-trades were confronted with the coronavirus pandemic, which shut down all work in mid-March 2020. 
Ticknor put the project on hold for six weeks, eventually resuming with the students working on the tiny house one at a time, one day per week. They followed this schedule until the tiny house was completed on May 19 — on schedule. 
Although the health and safety of the team was paramount, Ticknor described this dramatic shift in dynamics as being "a real bummer" as the team possessed "such a great synergy, and working with a crew is such a big part of a job site." 
The end of the build was supposed to be marked by a group ceremony and auction hosted by Ticknor in celebration of the tiny house's completion. That event was scratched, although each student was thrown an in-person "mini celebration" attended by their immediate families. 
"It was very sweet, and they got to show off what they did to their families," said Ticknor. "No one wanted to leave. It was awesome."
High Schoolers Learn Carpentry, Plumbing, Electrical, Roofing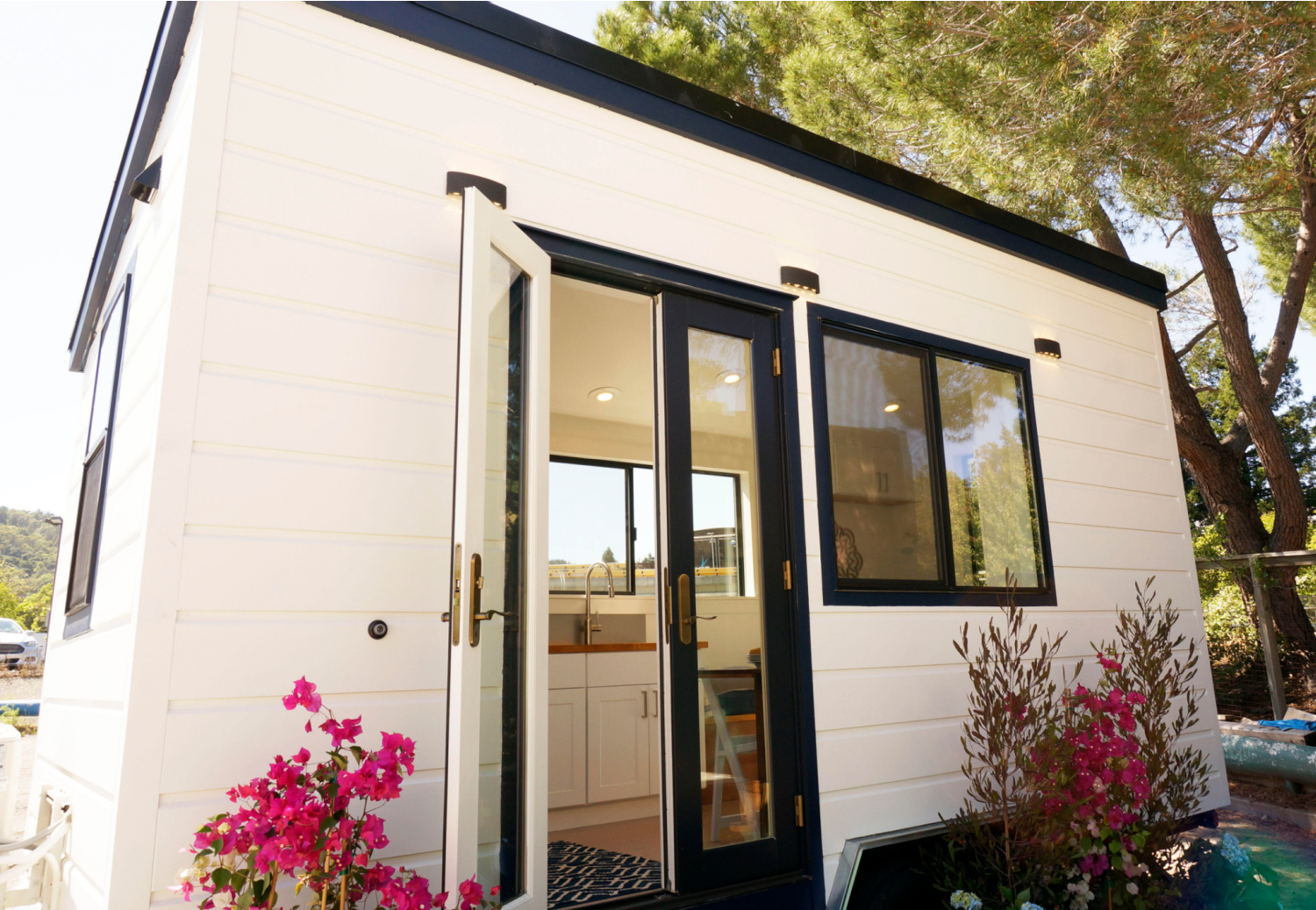 Some aspects of the build — including a deck and field trips — went unrealized but, in the end, the team completed the job and gained experience in a multitude of different skills. (The installation of spray foam insulation was the only aspect of the build that didn't involve the Big Skills Tiny Homes team).  
"There were some things that we wanted to do but we didn't get to do," said Ticknor. "But the tiny house itself just came out just splendidly."
Ticknor estimated that this first "high-end" tiny house cost $40,000 to build. Roughly $27,000 of this amount were out-of-pocket costs for lumber and appliances. The rest was made up for in donated materials including windows, doors and an all-important trailer. 
Tapping into his experience as a structural designer, Ticknor created the design of the tiny house, although he did also work off plans donated by two established tiny house builders. Many of the design changes were driven by donated materials. 
In lieu of an auction, the completed tiny house was sold online to a private buyer in neighboring Sonoma County.
Building Safely During COVID-19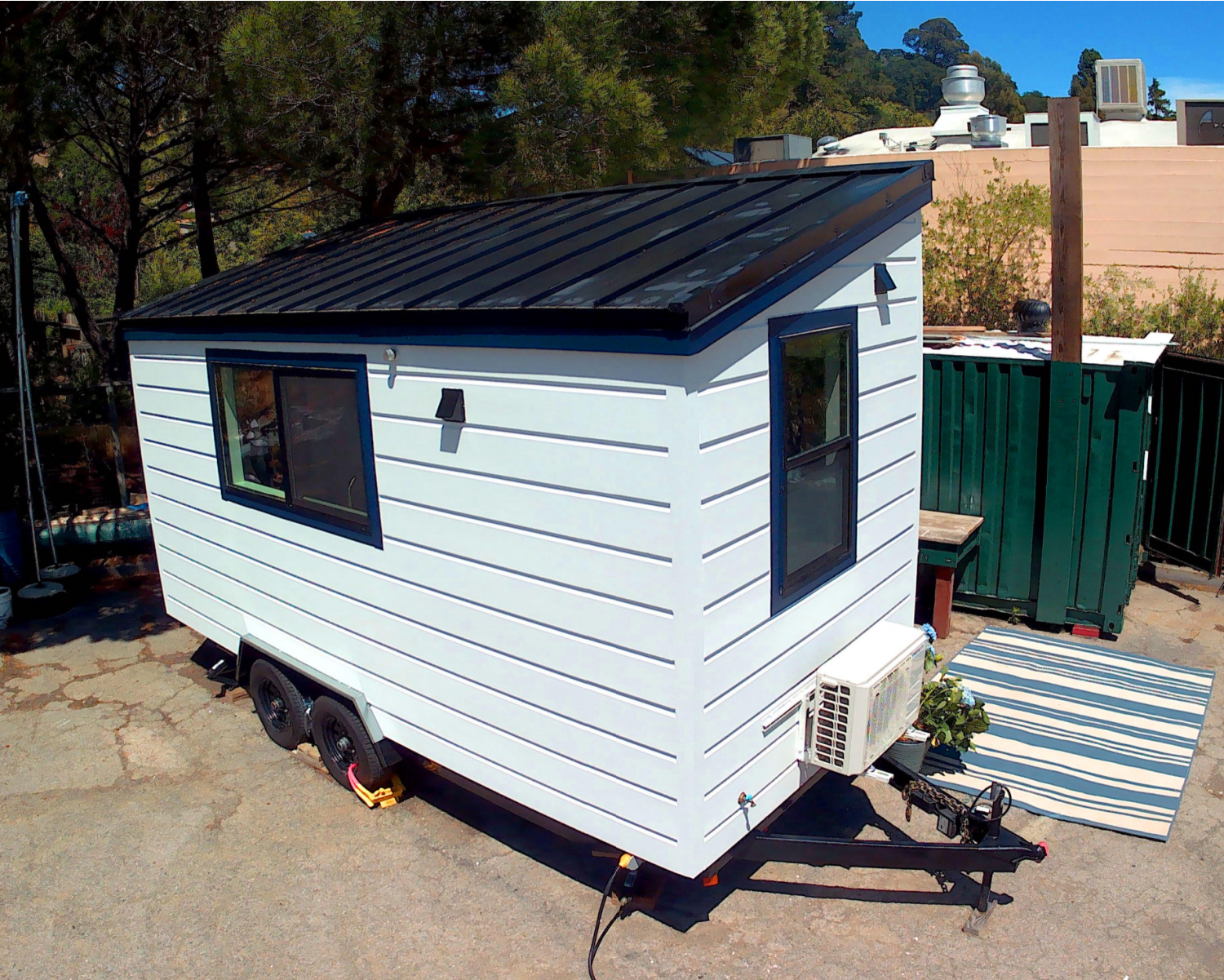 For Big Skills Tiny Homes' current build, things have proceeded in a different manner. The student team, recruited through online outreach, was finalized in August of 2020 instead of in late spring. The new team — three students plus Ticknor — is working together in strict adherence to the Marin County Health Department's COVID-19 guidelines. 
"We mask up and we go to town," said Ticknor, "and we'll continue to follow what the county health department says to do."
The project is different from the last for other reasons. The team has been working on a "less complicated, less-high-end tiny house" that already has a predetermined location: a tiny house village in Oakland created by Youth Spirit Artworks, a Bay Area organization working with at-risk young adults transitioning out of the foster care system. These youths, who would otherwise be homeless, will take up residence in one of 25 single-person micro-homes. 
The design and materials are all being donated, so this tiny house will be tinier than the first and it will lack plumbing. Kitchen and bathroom facilities at Youth Spirit Artworks' tiny house village are communal. While this limits the breadth of what Ticknor can teach, the team will perform a small bathroom remodel at a private home to learn plumbing, cabinetry and tilework to compensate.
"It's a slight pivot in terms of teaching, but I'm so excited that the tiny house is going to a good cause," said Ticknor. 
Head on over to the Big Skills Tiny Homes site to learn more, including full details of the tiny houses, including photos and a virtual tour. The site also features remote video interviews with the three Marin County students who employed their own unique gifts to compete the first home. There's also information about the current and upcoming tiny houses.