By Jodi Helmer
Parents: Before you start sending away for college brochures and worrying about how to finance a four-year college experience for your son or daughter, consider this: A college degree might not be the smartest route to a good-paying job and a soul-satisfying career.
"Thousands of kids are going to college because they think they are supposed to go, because their parents and teachers said, 'You need to get an education,' so they borrow money to come out with a [general] degree that doesn't point them in any particular direction," says Ken Rusk, a construction worker turned entrepreneur and self-described blue-collar millionaire. His recent book, "Blue Collar Cash," aims to help people find a path to their version of happiness and achieve financial success.
"College has never been the right path for everybody," he says.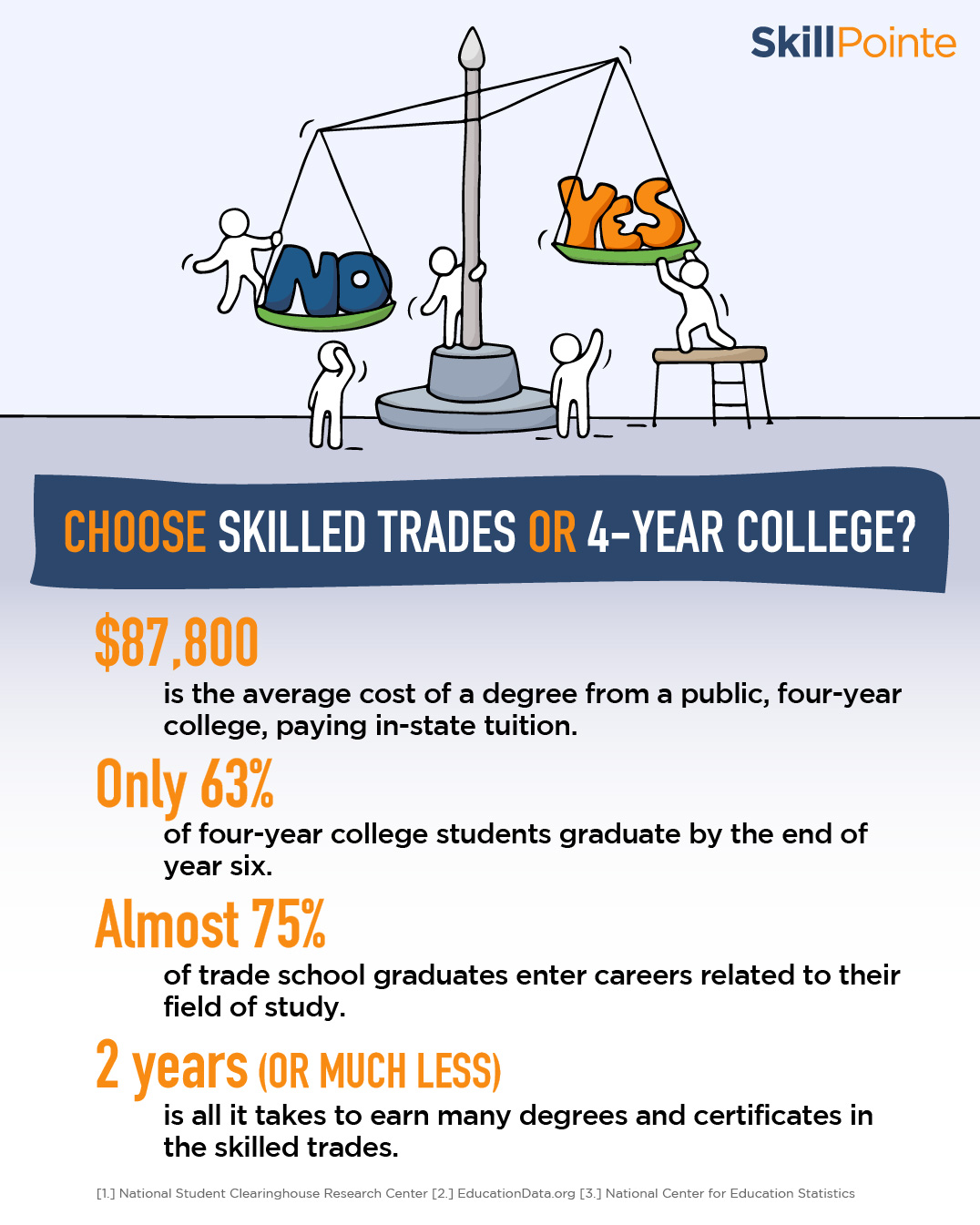 Why Kids Go to College
For students who love learning new skills and would rather work with their hands than sit at a desk, trade school, sometimes called technical college, might be just the right springboard to a bright future — one without the mountain of student loan debt that often crushes college grads. It's no wonder the number of students attending trade school is increasing while enrollments in four-year degree programs steadily decline. 
Here are six reasons to consider trade school instead of college for yourself or your child.
1. Hands-On Education
Students interested in fields like auto mechanics, cosmetology, HVAC installation or respiratory therapy don't want to spend all their time in a lecture hall. In trade schools, instructors prioritize hands-on teaching, helping students build the skills they will use in their careers and preparing them to enter the workforce.
2. A Head Start on Building Wealth
Trade school takes two years or less to complete. That means grads enter the workforce earlier than grads of four-year college — and gain experience, develop connections and move up the career ladder sooner. 
Rusk notes that while college students are amassing debt, tradespeople are earning income. "You get a head start on building your net worth."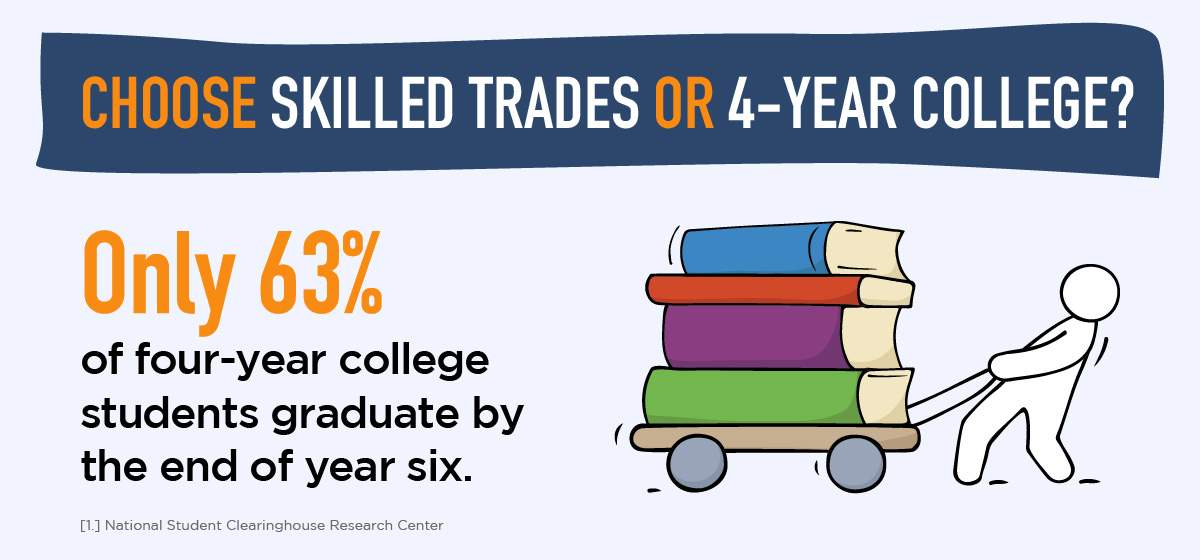 3. Less Debt
In the 2019-2020 academic year, the average annual cost of a four-year public college including room and board was $21,950, leading to an average of $22,919 in student loan debt that takes an average of 20 years to repay. The average annual cost of a private four-year college was steeper still: $49,870.
Trade school costs vary widely, depending in part on the length of the program, but most don't come near the cost of a four-year public college, let alone a private one.
Help with tuition in the form of scholarships and grants is there for those who need it. Sandra Krebsbach, PhD, executive director of the American Technical Education Association, says demand for skilled workers is so great that states are pulling out all the stops to make sure students can afford the training. She points to Perkins Basic State Grants and state programs such as the Cal Grant C in California and the Oklahoma Tuition Aid Grant, not to mention federal Pell Grants, as sources of funding.
4. An Almost-Guaranteed Job 
Trade school grads are often on the payroll before the ink on their diploma is dry. Why? The demand for skilled workers in fields such as electrical, plumbing, mechanics, welding, construction and HVAC has exploded. Companies looking to fill these jobs aren't looking for people with bachelor's degrees; they need workers with the skills and certifications trade schools deliver. 
"Technical schools have a strong focus on job placement," says Krebsbach. "[The administrators] work with advisory committees that review curriculum, advise on workforce needs and make sure that the skills students are learning are marketable and will help them get hired after graduation."
As one student at aircraft maintenance school Pittsburgh Institute of Aeronautics told Forbes, "You would have to try to not have a job offer" after graduation.  
5. A Job in the Right Field

Almost three-quarters of trade school graduates enter careers related to their field of study, while 41% of recent college grads are underemployed, working in jobs that don't require college degrees. 
The job placement rate for graduates of State Technical College of Missouri's HVAC program is 97% according to the school's website, with 88% of those students finding work related to their field of study.
6. Strong Return on Investment
Trade school grads are rewarded with job offers and sizable paychecks, one of the top reasons trade school enrollment is increasing. Check out these annual mean wages as reported by the Bureau of Labor Statistics:
•    Production workers such as metalworkers, machinists and welders: $40,140
•    Roofers: $45,820
•    Installation, maintenance and repair workers: $50,130 
•    Construction and extraction workers: $52,580
•    Carpenters: $52,850
•    Health information technologists: $58,600
•    Radiology techs: $63,120
•    Respiratory therapists: $63,980  
•    Power line installers: $71,960
•    Power plant operators: $79,370
"If the economy is up or down, refrigerators still break, toilets still get clogged, houses will still need to fixed." says Rusk. "A robot is never going to cut your hair, plant a tree in your yard or climb on your roof and replace your shingles. These careers are always going to be in demand."
Jodi Helmer has covered education and vocational training for Civil Eats, NPR, Fresh Cup and Garden Center Magazine among others.