By Sarah Hicks
Everywhere you turn, there's a headline about a potential recession. 
Some experts say a recession is inevitable; others aren't so sure. It's unnerving to employers, workers and job seekers.
At SkillPointe, we don't try to predict what the economy will do, but we do pay close attention to employment data. And the data says no matter what happens, there are plenty of recession-proof job opportunities to consider. 
What Is a Recession Proof Job?
A recession-proof job is one less likely to be affected by an economic downturn. These jobs are in demand no matter what the economy does. Healthcare is a good example. People need medical care in good times and bad, so professions such as licensed practical nurse and dental hygienist tend to be stable. 
SkillPointe defines recession-proof jobs with an additional filter. We focus on skilled jobs that don't require a bachelor's degree. The hands-on skills needed for these jobs are more likely to be essential in any economy.
With that in mind, here's our list of recession-proof careers across 10 industries. We may not have a crystal ball, but we know it's always possible to make a smart career move — even if a recession is looming.
A Guide to Recession Proof Careers in Skills-Based Industries
To come up with this list, we analyzed Lightcast and Bureau of Labor Statistics (BLS) data. 
First, we looked at job openings. BLS predicts there will be about 13.7 million job openings for skills-based job types that we cover on SkillPointe. 
Next, we considered earnings, setting $40,000 as the minimum for median annual salary. 
Finally, we gave each factor a weight to come up with our list — 75% is job demand and 25% is earnings.
We found an abundance of opportunity across industries.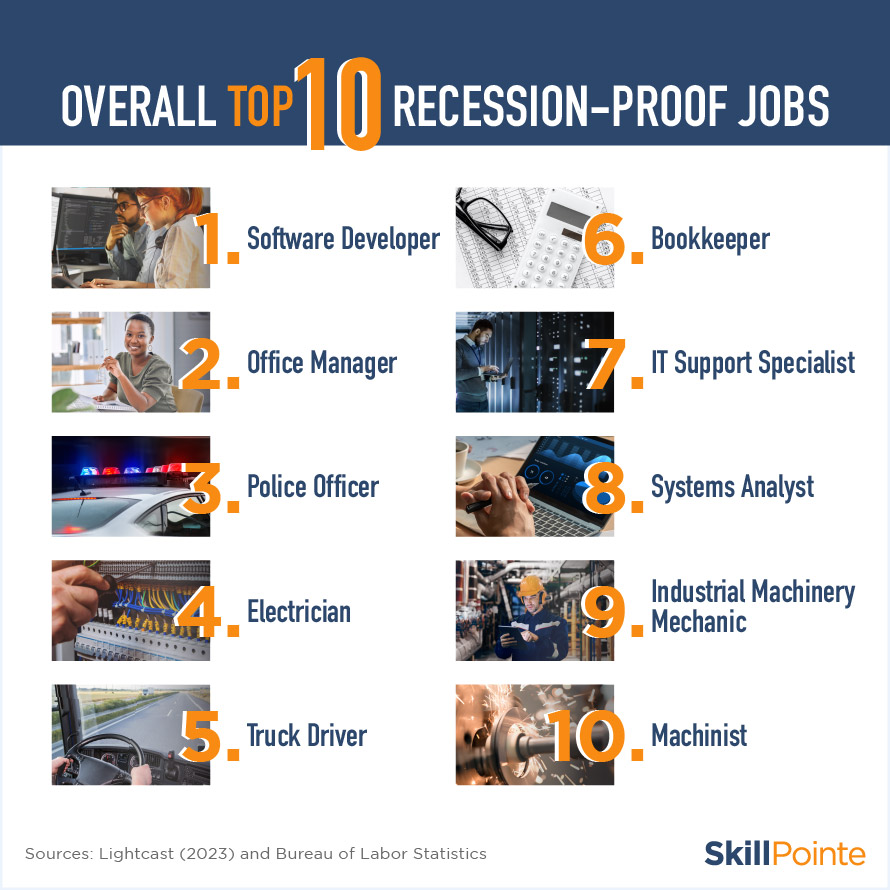 Recession Proof Tech Jobs
No job or industry is 100% recession-proof, but some weather the storm better than others. Information technology (IT) is a good example. The industry is being shaken by the changing economy, but it won't be knocked down.
Even as big-name companies lay off thousands of workers, the demand for those workers' skills hasn't diminished. Other employers still need these skills because every industry has a digital footprint. In fact, BLS predicts job growth of about 15% for the tech industry. 
Three of the overall top 10 recession-proof jobs are in IT, and several other jobs also are considered secure, including:
Software developer
IT support specialist
Systems analyst
Network systems analyst
Information security analyst
Database administrator
If that data doesn't convince you, consider the money to be made in this industry. IT jobs dominate the list when skills-based jobs are sorted by salary.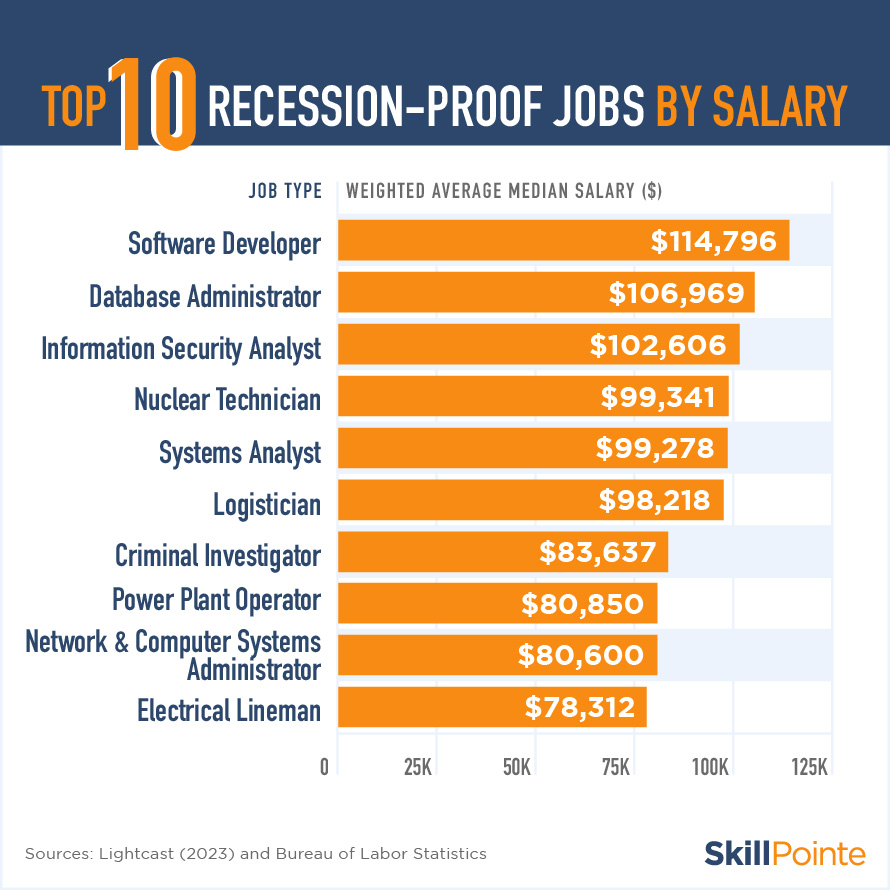 Recession Proof Construction Jobs
It may surprise you to see the construction industry in this list, but this downturn — if there is one — won't be like any we've seen in the past.
Why? Because federal money is coming.
The Infrastructure Investment and Jobs Act (IIJA) includes money for hundreds of infrastructure projects across the U.S., with billions going to each state. 
Money from the bill first started moving to states and cities at the end of 2022. "Meaning the valve will open up to infrastructure contractors in 2023," Nick Grandy, construction and real estate senior analyst at RSM US, told ConstructionDive.
If a recession arrives, these construction jobs will be safer from volatility than most, and several offer earn and learn programs so workers get paid while they learn the trade:  
Electrician
Carpenter
Plumber
Welder
Construction Equipment Operator
HVAC Technician
Heavy Equipment Mechanic
Is Healthcare Recession Proof?
That question comes up frequently, but the answer isn't a simple yes or no. 
"It's not really recession-proof — that's a little bit of a misnomer," Ben Isgur, health researcher at PwC, told Healthcare Dive. "It is a little recession-resistant, but eventually that wears off."
However, healthcare jobs tend to weather economic bumps much better than others because they cover essential services. Whereas some industries feel the brunt of a downturn immediately, healthcare takes longer to slow down. 
The COVID-19 pandemic certainly affected healthcare, with many workers leaving the industry. However, the industry overall has already surpassed the employment peak set before the pandemic and is expected to keep growing.
These well-paying healthcare jobs are consistently stable:
Licensed Practical Nurse (LPN) and Licensed Vocational Nurse (LVN)
Medical Records Technician and Health Information Technician
Laboratory Technician
Dental Hygienist
Radiology Tech
Physical Therapy Assistant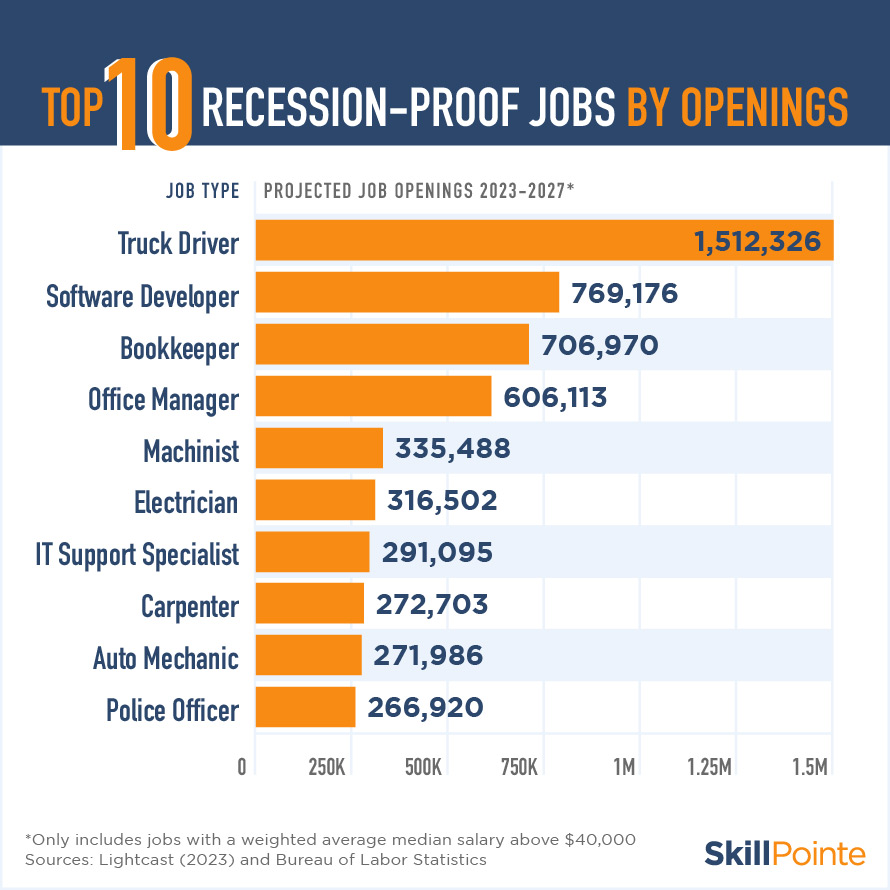 Public Service Jobs Are Essential in Any Economy
The public service industry includes public safety and community service roles that tend to stay above the fray during a downturn.
The best examples are public safety roles. The need for law enforcement officers becomes more critical when the economy slows down, and their pay may increase as a result. Meanwhile, the need for skills provided by paralegals and teaching assistants remains steady.
These public service jobs provide a lot of job security, especially in tough times:
Police Officer
Paralegal and Legal Assistant
Correctional Officer
Firefighter
Criminal Investigator
Business Jobs To Consider During a Recession 
Some careers made our list of recession-proof jobs because of sheer demand. 
The BLS predicts there will be more than 706,000 openings for bookkeepers over the next five years, and jobs for office managers aren't far behind. (See chart above.) Openings for other roles, such as logisticians, are growing fast because our reliance on e-commerce is here to stay. 
Consider these recession-proof jobs in business:
Office manager
Bookkeeper
Training and Development Specialist
Logistician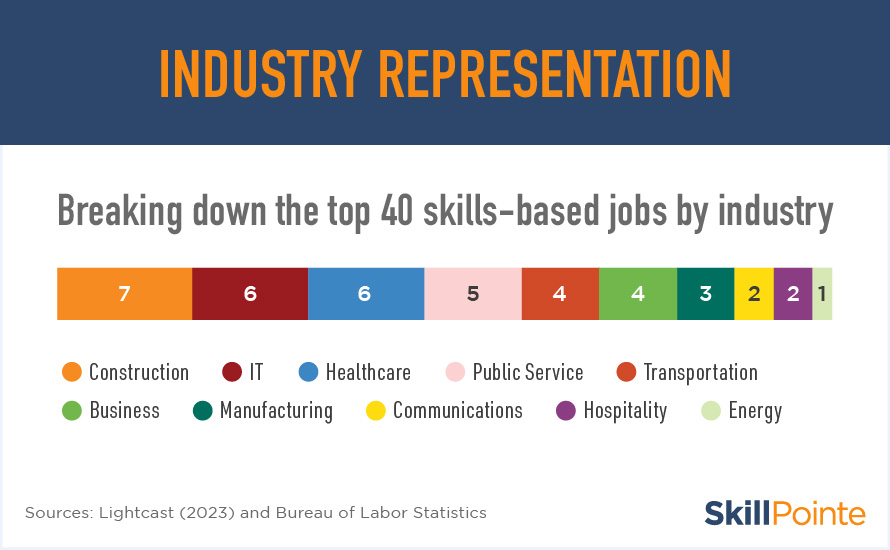 Recession or Not, We Need Transportation Workers 
Several transportation jobs also benefit from our reliance on a healthy supply chain. During the pandemic and after, truck drivers have delivered more than 60% of all U.S. shipments. They also have the most predicted job openings of any job on our list — more than 1.5 million jobs over the next five years. 
Meanwhile mechanics of all types would benefit from a downturn because vehicle owners are more likely to fix a vehicle than buy a new one when times are tight.
Consider these recession-proof jobs in transportation:
Truck Driver
Auto Mechanic
Diesel Mechanic
Aircraft Mechanic
Recession Proof Manufacturing jobs
Manufacturing may seem like a surprising addition to this list. Traditionally, it has been one of the first industries to respond to an economic downturn, but it's also the first to experience a surge in growth afterward. 
Technology and talent management have also changed the game, according to an analysis by Deloitte. 
Manufacturers that invest in advanced technologies and focus on training and retaining workers will do better than the competition if there's a recession. (Plus, micro credentials put training within reach for even the busiest employees.)
In fact, job openings in manufacturing are still high — which means opportunity for job seekers.  
As a result, these manufacturing jobs are considered relatively recession-proof:
Industrial Machinery Mechanic
Electrical and Electronics Engineering Technician
Opportunities in Communications, Hospitality and Energy  
Jobs in these sectors are recession-proof for many of the reasons we've already covered. 
Some communications and energy jobs are more resilient because they are utility-related. The need for electricity, water, cable and internet services doesn't fluctuate. 
Meanwhile, hospitality — which is enjoying a post-pandemic boom — is still hungry for more skilled food service and hotel workers.  For example, the food service industry is projected to grow by 500,000 jobs by the end of 2023, according to the National Restaurant Association.
For workers in these jobs, there's still plenty of opportunity: 
Fiber Optics Technician
Graphic Designer
Food Service Manager 
Chef and Head Cook
Electrical Lineman
Sidestep a Recession With Job Security  
No one wants to go through a recession, but if one comes in 2023, some jobs will weather the storm better than others. Skills-based jobs have an advantage. 
Many skilled workers provide essential services to the community or support businesses that aren't phased by a downturn. Job openings for many of these roles continue to outpace the number of available workers, keeping salaries higher.  
That's reason enough for skills-based workers to be cautiously optimistic. If you're not in one of these professions, there's room for you — so check out the job options below or explore SkillPointe's career pages.  
Top 40 Recession Proof Jobs for Skilled Workers:
Sarah Hicks is an editor and writer with expertise in workforce training and sustainability.